61st Annual Meeting
Saturday, March 4, 2017
Keynote Speaker
Carolyn Dean, Professor of Art History, UC– Santa Cruz
"Starving the Sacred: The Early Modern Struggle of the Embodied Divine"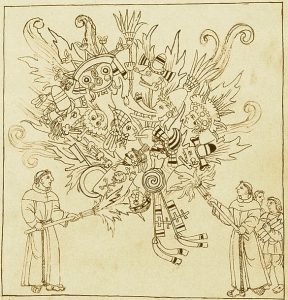 Diego Muñoz Camargo, "Friars Burning the Clothes, Books, and Adornments of Native Priests," Descripción de la ciudad y provincia de Tlaxcala, fol. 242r, late 16th c., Pen and ink on paper.
Roman Catholic discourses of idolatry shaped interpretations of sacred Native American things in the Spanish colonial period, and they continue to shade our understandings in some fundamental ways today. Spanish perceptions and consequent taxonomies of venerable items were often bound by Christian conceptions of what idols were, what they ought to look like, and how best to destroy them. Although extirpators of idolatry focused attention on the material hosts of the embodied sacred often reducing them to fragments, ashes, and dust, this paper proposes that rather than stubbornly requiring traditional pre-Hispanic materials to provide a physical presence, the indigenous sacred was often more supple than colonial authorities supposed. By focusing on selected sacred bodies from the two centers of indigenous American population—Central Mexico and the Central Andes—this paper will consider materiality and expectations about how the phenomenal and immanent worlds infused each other in Spain's American colonies.
PROGRAM
❧ 8:00 – 8:45 ❧
REGISTRATION – Education and Visitor Center
❧ 8:45 – 8:50 ❧
WELCOME: Wendy Furman-Adams, RCSC President
❧ 9:00 – 10:30 – SESSION ONE ❧
Haaga Hall 1 – Intertextuality and Adaptation
Chair: Wendy Furman-Adams, Whittier College
Lorna Fitzsimmons (CSU Dominguez Hills), "Inter-Religious Courtship and the Art of Sleep"
Elizabeth Langresa-Gonzalez (Harvard University), "Early Modern Global Networks of Exchange: Gendered Belongings and Multicultural Transactions in Cervantes's Romance Novellas"
Jesus David Jerez-Gomez (CSU San Bernardino), "The Book of Good Love and Mudéjar Literature: An Iberian Contribution to the Renaissance"
Haaga Hall 2 – Books and Print Culture
Chair: Lauren Kilroy-Ewbank, Pepperdine University
Ryan Gurney (UC Irvine), "Images of Impermanence: Dutch Prints of New Netherland (travel books, prints, global market)"
Theresa Avila (Hayden Library, Arizona State University), "Mapping the Renaissance in the New World: Atlases and Maps of the Americas"
Bryan Keene (Courtauld Institute, London), "The World in a Book: Manuscripts, Printing, and Pre-modern Globality"
❧ 10:40 – 12:10 – SESSION TWO ❧
Haaga Hall 1– Early Modern Tropes
Chair: Bryan Givens, Pepperdine University
Jessie Singer (UC Berkeley), "A Trans-Atlantic Haunted House Trope"
Mark Davis (Christopher Newport University), "Bullfights as Images of Global Spanish Unity in Three Early Modern Festival Narratives"
Barbara Mello (USC), "Christopher Marlowe and the Medieval Hellmouth"
Haaga Hall 2 – Encounters and Exchanges with Islam and Beyond
Chair: Heather Graham, California State University, Long Beach
Stephanie Spoto (CSU Monterey Bay), "Scottish Perceptions of Islam in the Seventeenth Century: William Lithgow's Travels through the Ottoman Empire and Northern Africa"
Sheryl Reiss (Princeton University), "Giulio de' Medici (Pope Clement VII), the World beyond Europe, and the Visual Arts"
Annick Benavides (Harvard University), "Turk, King, and Eucharist: Compañeros, Madrid to Cusco."
❧ 12:15-1:30: LUNCH, GARDEN COURT ❧
❧ 1:00 – 1:30 – RCSC Board Meeting: All Participants Welcome❧
❧ 1:45 – 2:45 – KEYNOTE LECTURE – HAAGA HALL
Introduction: Lauren Kilroy-Ewbank
Carolyn Dean
Professor of Art History and Visual Culture
University of California, Santa Cruz
"Starving the Sacred: The Early Modern Struggle of the Embodied Divine"
❧ 3:00 – 4:30 – SESSION THREE ❧
Haaga Hall – Shakespeare
Chair: Kent Lehnhof, Chapman University
James Kearney (UCSB). "The Mad Event of Decision: Affective Ethics and Moral Calculation in Late Shakespeare."
Andrew Griffin (UCSB), "'General and Exceptionless': Satire in Timon of Athens"
Danielle Davey (UCSB), "Excess Meets Excess: Prodigality and Waste in King Lear"
Sheiba Kian Kaufman (UCLA Clark Library), "'You will say they are Persian; but let them be changed': Hosting Persian Transformations in King Lear"
❧ 4.30 – 5.30:  Closing Reception, Garden Court❧
Closing Remarks: Wendy Furman-Adams
Here is a PDF version of the Program.
---